About Geronimo Solutions
Nonprofits often struggle to procure donated items to sell to generate donations. Business owners are often inundated with donation requests from nonprofits and receive very little promotional value from their donations.
Geronimo has developed several unique platforms that efficiently match nonprofits with generous business owners. Nonprofits raise more money each year, and businesses leverage the promotional reach of nonprofit fundraising events and websites.
For example, a small bed and breakfast posts a weekend getaway on Geronimo's "OneSpare" platform. Then, a nearby nonprofit logs in to their "TravelPledge" dashboard, selects the getaway, and promotes it at their auction. When it sells, the nonprofit and bed and breakfast split the revenue; generating a meaningful donation and filling otherwise unused rooms.
27,440 nonprofit organizations have created accounts on Travelpledge to gain access to $83 Million in fun experiences.
---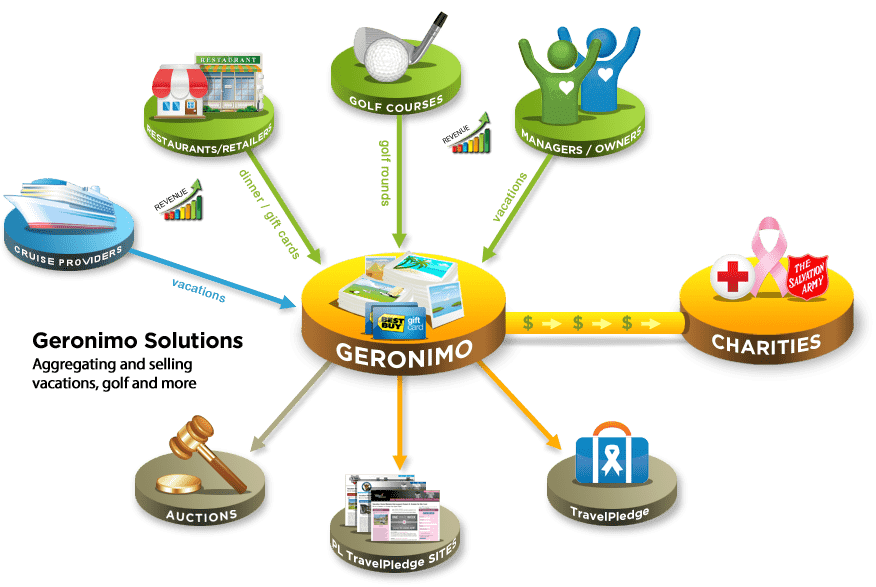 Cruise Lines
We make it easy for cruise lines to generate "move the needle" revenue and fill empty cabins while building their brand halo.

Retailers and Restaurants
We have an API that ties into a major gift card provider. Our solution can completely handle gift card distribution to nonprofits for major retailers and restaurants.

Golf Courses and Resorts
Our OneSpare solution completely automates the process of supporting nonprofits and responding to donation requests. Participating golf courses save time and are automatically promoted to their target audience.

Vacation Providers
We provide automated solutions for vacation providers to promote their businesses and fill slow-season weeks. The focus is on last-minute and off-season availability and ensuring rate integrity.

Nonprofits
Nonprofits enjoy free access to $Millions of fun experiences and all the tools to convert them into donations: promotional materials, bid sheets, donor communication templates and more.

Year-round Fundraising Websites
Nonprofits promote a custom website to their donors featuring TravelPledge experiences and generate additional donations.

Fundraising Auctions
We match nonprofits with generous business owners and provide all of the tools to help convert fun experiences into donations at auctions and raffles.

Aggregated Experiences
Geronimo Solutions aggregates $Millions in fun experiences that nonprofits convert into donations.
---